JVC launched a new dual dynamic transducers based IEM called the HA-FXT90. The drivers are in what JVC refers as the 'TWIN system' where no crossover seems to be used but instead the driver themselves have different diaphragm materials that reproduce different region of sound, then mix together naturally inside the IEM.
From an early preview from Japan has suggested that it has a very powerful bass. The one good news is this is not a particularly expensive IEM. MSRP is 10000Yen ( = US$120 or Hk1180. With the twin drivers, one can expect it to perform like a mini speakers with high and low frequencies.
I went to the JVC showroom for an audition and I am so impressed with it that I bought it to use with my portable player PCM M10 and also for use during my flights on business trips.
Protecting our ears is important and a good pair of headphone will certainly help. There are many much more ex waive headphone but I guess this JVC is good enough for me given the nice price performance ratio... Enjoy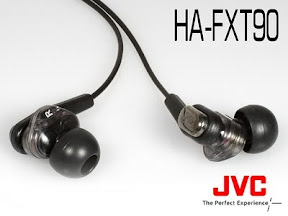 - Posted using BlogPress from my iPad